EXPLORE DENMARK – A COOL PLACE TO VISIT

With 406 islands and over 7,000 km of coastline, Denmark is the smallest and most southerly of the Scandinavian countries and offers visitors a superb mix of lively cities, peaceful and quaint villages and a most attractive countryside.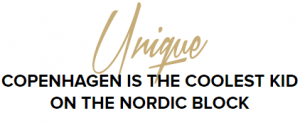 A small land area holds a huge variety of attractions that are waiting to be discovered – castles, historic towns and Viking sites blend with spectacular modern architecture. This combined with a progressive and forward-thinking Danish mentality make Denmark a truly unique country to visit, explore and enjoy.
TOURS & EVENTS

Best in Life offer you unique experiences around the world. Below you find our tours on the chosen destination.
COPENHAGEN
Copenhagen is the coolest kid on the Nordic block. Edgier than Stockholm and worldlier than Oslo, the Danish capital gives Scandinavia the X factor. Just ask style bibles Monocle and Wallpaper magazines, which fawn over its industrial-chic bar, design and fashion scenes, and culinary revolution.
CULINARY DELIGHTS – AND THE BEST RESTAURANT IN THE WORLD 2014!

Dining establishments in the capital range from stylish, conventional eateries serving a range of international cuisine to locally sourced, innovative restaurants. Whatever your preference, Copenhagen cuisine is sure to please your palate as well as introduce you to a range of new foods. This is where you will find New Nordic pioneer Noma, (once again) voted the world's best restaurant in 2014, and one of 15 Michelin-starred restaurants in town – not bad for a city of 1.2 million and the most happy people. Noma is a Holy Grail for gastronomes across the globe. Using only Scandinavian-sourced produce such as musk ox and skyr curd, Head Chef René Redzepi and his team create extraordinary symphonies of flavour and texture. Tables are booked months ahead, so expect to join the waiting list. Tip: Just give us a call.
Yet Copenhagen is more than just seasonal cocktails and geometric threads. A royal capital with almost nine centuries under its svelte belt, it's equally well versed when it comes to world-class museums and storybook streetscapes. Its cobbled, bike-friendly streets are a hyggelig (cosy) concoction of sherbet-hued town houses, craft studios and candlelit cafes. Add to this its compact size, and you have what is possibly Europe's most seamless urban experience.
TIVOLI GARDENS

Dating from 1843, tasteful Tivoli wins fans with its dreamy whirl of amusement rides, twinkling pavilions, carnival games and open-air stage shows. Visitors can ride the renovated, century-old rollercoaster, take in the famous Saturday evening fireworks display or just soak up the storybook atmosphere. A good tip is to go on Fridays during the summer season, when the open air Plænen stage hosts free rock concerts from Danish bands (and the occasional international superstar) from 10pm – go early if it's a big-name act.
Indeed, Tivoli is at its most romantic after dusk, when the fairy lights are switched on, cultural activities unfold, and the clock tower of the neighbouring Rådhus soars in the moonlight like the set of a classic Disney film.
Each of Tivoli's numerous entertainment venues has a different character. Perhaps best known is the open-air pantomime theatre, built in 1874 by Vilhelm Dahlerup, the Copenhagen architect who also designed the royal theatre. Tivoli's large concert hall features performances by international symphony orchestras and ballet troupes, as well as popular musicians. While the numerous open-air performances are free of charge, there is usually an admission fee for the indoor performances.
CHRISTIANIA

Escape the capitalist crunch at Freetown Christiania, a dreadlocks-heavy commune straddling the eastern side of Christianshavn. Since its establishment by squatters in 1971, the area has drawn nonconformists from across the globe, attracted by the concept of collective business, workshops, and communal living. Explore beyond the settlement's infamous 'Pusher St' – lined with shady hash and marijuana dealers – and you'll stumble upon a semi-bucolic wonderland of whimsical DIY homes, cosy gardens, and a handful of craft shops, eateries, beer gardens and music venues.
Before its development as an alternative enclave, the site was an abandoned 41-hectare military camp. When squatters took over, police tried to clear the area. They failed. The hippie revolution was at its peak and wave after wave of alternative folk continued to pour in.
Bowing to public pressure, the government allowed the community to continue as a social experiment. Self-governing, ecology-oriented and generally tolerant, Christiania residents did, in time, find it necessary to modify their 'anything goes' approach. A new policy was established that outlawed hard drugs, and the heroin and cocaine pushers were expelled.
Take a safe and private Best in Life guide and just enjoy.
SHOPPING

All major global brands are available and a wide range of Danish-designed goods that are gaining world acclaim are naturally in abundance. You won't be able to leave without at least a small piece of porcelain from the Royal Copenhagen factory either – it has been producing world class goods since 1775 so they are pretty good at it!

COPENHAGEN FASHION WEEK
This major biennial event features six days of design-related seminars, screenings, exhibitions and themed walks in late August or early September. The event also show cases the work of 60 designers competing for the INDEX: Award (www.indexaward.dk), the world's most lucrative design prize.
FAMILY ACTIVITIES
Amusement parks, castles, parks and playgrounds abound. Recall the Viking days at a range of museums. The country that gave birth to famous writer Hans Christian Andersen offers as many family stories to tell as he wrote. For more fun with the family, visit Legoland in Billund – the most popular and original amusement park in Denmark.
HIT THE ROAD

his small country is ideal for touring by road – great quality roads, the routes are well sign posted, and you can even reach neighbouring countries, including Sweden and Germany quickly and easily.
Get out and enjoy golfing, sailing, fishing, canoeing and much more – the air is clean – get outside and smell the freshness! And Denmark is a great place to "hop on your bike" with over 10,000 km of signposted cycling routes – there are even parking facilities and separate traffic lights just for cyclists in many areas.