BEST IN LIFE OFFER YOU THE BEST OF SPAIN

Beach holidays, beauty treatments, exclusive accommodations, long stays in Spain, luxury tours by train, Michelin Star restaurants, personal assistance, shopping, tailor-made transportation, VIP sports tickets, hospitality areas, services hostesses, transfers, charter of private jet airplane, helicopter, bodyguards, personal shoppers…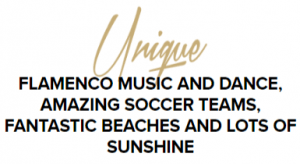 Best in Life have a simple goal; to give you an insight into the culturally rich, diverse and truly beautiful country Spain. You will return with memories that will last a lifetime.
IMPORTANT AND BEAUTIFUL CITIES/REGIONS

BARCELONA
This city is home to many interesting sites, with one being the Sagrada Familia. Construction for this large basilica commenced in 1882, but remains unfinished to this day. However, its architecture is a work of art, with the renowned architect Antonio Guadi being responsible for its amazing design. There are other interesting attractions too, which include Park Güell and Palau Güell – also designed by Gaudi.
MADRID

Madrid, arguably the centre of Spain's decadent cuisine, your taste buds will revel in the dishes on offer. Well known for its tapas, and there is no better place to enjoy a traditional tortilla, which has its origin engrained in Spanish culture, than in this city. Once you have satisfied your hunger, you can explore the museums that show off the country's rich history.
VALENCIA
Also quite popular for its cuisine, the best dish to try out in this city is the paella. However, there is more to do than just indulge in amazing gastronomy. This location boasts enchanting architecture, with some interesting structures being the Plaza Del Mercado, La Catedral and Plaza de La Virgen, Torres de Serranos and Museo de Bellas Artes San Pio V.
SEVILLE

Home to the third-largest church and the largest gothic basilica (Seville Cathedral), you do not want to miss what is on offer in this city. You may be forgiven for thinking that you are locked in the mysterious past from the remnants of the old structures. These include the Plaza de Espana and Torre Del Oro.
COSTA BRAVA

Sun worshipers will rejoice when they see this coastal region of Spain. The golden beaches, warm sun and blue sea will lure anyone looking for the best spot to relax. However, the stretch of sand is not the only thing that beautifies this destination. There are villas, forts, coves and museums in and around it.
BEST IN LIFE SPORTS ARE PART OF CONTEMPORARY LIFESTYLE AND IS IN ITSELF THE MAIN REASON FOR MANY CUSTOMERS TO VISIT MADRID & BARCELONA.

You can either enjoy a match of football, basketball, handball, or see Formula 1 race, Moto GP, trucks event or training in one of the many sport facilities with professionals dedicated to football, swimming, tennis, athletic stars. Best in Life offer you all kind of tickets or VIP packages to
FC Barcelona, Real Madrid, Atletico Madrid or Barcelona Formula 1 race.
Best in Life also suggest you basketball, handball, cycling routes, extreme sports, golf, horseback riding routes, marathons in Spain, motor sports events, mountain sports and sailing in the bay of Cadiz.
BEST IN LIFE SPAIN ACCOMMODATION

Unique hotel: Five stars hotel, with a unique design, located in a unique setting and which offers unique services to their clients. There are many exclusive hotels in spain, however, this one stands out over the rest. Its personalized design by a great architect makes this hotel unique. The hotel has a well-known winery, luxury spa, high cuisine, fully equipped gym and unbeatable surroundings by vineyards.
Exclusive boutique: A 19th century palace, UNESCO protected building, surrounded by a colorful garden with Arabian style fountains. This beautiful luxury boutique hotel located 65 meters from Granada cathedral offers personalized services, exquisitely decorated rooms, with temporary design while conserving the original decor of this historic property. Its spa is famous for offering a peaceful rejuvenation for both body and mind and its restaurant represents the Andalusian tradition.
Emblematic Parador combining history, art and tradition, the goal of pilgrims and the emblem of St. James, the building forms together with the cathedral, one of the world' most remarkable and most visited urban settings. Considered the oldest hotel in the world, it is also one of the most luxurious and beautiful. It has four extremely beautiful cloisters, elegant public rooms, spectacular bedrooms and a luxurious dining room offering Galician style fish and meats, the classic apple Fillopies and Crème Brulée.